A Cappella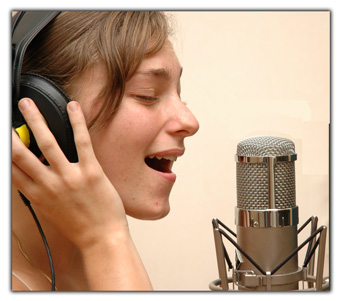 MORE A CAPPELLA GROUPS CHOOSE WELLSPRING SOUND than any other facility in the country. Why? A combination of factors make Wellspring an ideal place for vocal music.
Our acoustically-designed HUGE LIVE ROOM in studio A is 40' x 35' with 12-15 foot ceilings, and also contains four isolation booths, allowing plenty of room for large groups. In addition, the space has a lovely resonance that can be varied with movable walls and several rugs. Studio A also features 6 mix stations that let up to 12 people create their own headphone mixes.
Wellspring has 2 SEPARATE RECORDING SPACES. Studio A, pictured on the home page, is a comfortable space for bigger group recordings, with a large control room where up to 10 people can hang out. Studio B offers a powerful, totally automated mixing console, along with a living room-sized recording room suitable for groups of 4 or less. Studio B is where groups often choose to do their overdubs, edits and mixing. Projects recorded in Studio A are compatible and instantly transferrable to Studio B.
THE MICROPHONES used in recording a cappella are the most important component of how a voice sounds, and Wellspring's collection of over 150 microphones is unmatched. We have over 40 microphones specifically designed for recording vocals, including 20 tube microphones, whose presence and warmth often sound superior for a cappella material. When large group live recording is desired, Wellspring has 20 premium quality tight pattern vocal mics, including 6 Neumann 105's and 5 Shure KSM-9's. These mics allow singers to work side by side with almost no vocal bleed from one mic to the next, letting us make pitch and other adjustments with ease.
RADAR-24 is the warmest, richest, best sounding recording system on the planet. Used by U2, Sheryl Crow, Bob Dylan, Paul McCartney, Ricky Skaggs, and many others, RADAR sounds significantly better than any other digital format, and has all the editing capabilities you'd expect from a digital system. Wellspring owns 3 systems for a total of 72 tracks. Sometimes groups will prefer the slightly fancier editing and greater track counts possible in ProTools, and Wellspring has a fully-equipped ProTools HD3 Accel system in the A room and a Mix3 system in the B room. AMENITIES-Wellspring has plenty of free parking, 2 separate lounges, high speed wifi, a kitchen with refrigerator and microwave, and cupboards of teas and coffees. In addition, there are over a dozen restaurants within a five minute drive of the studio, and three pizza places that deliver.
THE GEAR: with over 65 channels of high-end microphone preamps, 30 compressors, 20 equalizers, and a host of other processors. Wellspring is ready for any challenge an a cappella recording session might present. When it comes to mixing your material, both Wellspring's A and B studios offer automated mixing consoles, with superior monitoring for mixes that sound great when they leave the studio. We have racks of top-shelf reverbs, delays, and other effects that help bring out the best in your mixes.
THE EARS: With our extensive experience in a cappella music, Wellspring's engineers can help you get great tracks as quickly as possible. We can help you figure out the best ways to structure your recording sessions to get the most from your singers. We know how to listen well to you, both before and during the session, and are happy to meet with groups to plan out your next album. "
The Nor'easters would like to thank you for all your help recording and producing our debut CD. We loved working with you,and couldn't have done it without your talents and skills. We hope to work with you again in the future" Nor'easters ( Northeastern University) 2009
Selected Clients
Brown University Chattertocks
Brown U. Harmonic Motion
Bown Derbies
Brown U. Ursa Minors
Brown U. One Voice
Brown University Hi- Tones
Harvard University HOTS
Harvard U. Veritones
Harvard U Opportunes
Tufts University Amalgamates
Tufts Universtiy Beelzebubs
Boston College Heightsman
Wellesley College Fallen Angels
Wellesley Widows
WellesleyTupelos
Wellesley Blue Notes
Colby College After 8's
Rensselear Polytech Rusty Pipes
Colgate 13's
MIT Toons
Middlesex School
Wesford High School
Wayland High School
Silver Leaf Gospel Singers
Realia
Vox One
Serious Fun
AKA Pelican Groove
Vari-Asians
Euphoria
The Heaths
Tap Root
Toxic Audio
The Mystic Chorale
Kairos Quartet
So Rare