Studio A at Wellspring Sound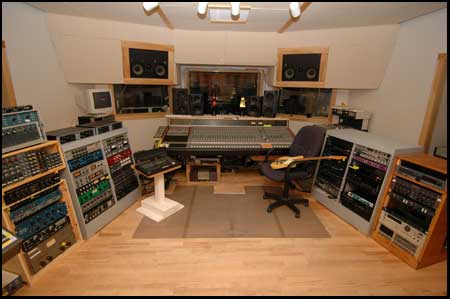 In July 2000, Wellspring moved to its new 4000 sq ft facility in Acton. The new studio A features a 40´ x 35´ live room with maple floors and 12´ - 14´ ceilings, a 22´ x 25´ acoustically-designed control room with 1/2" and 1" mixdown decks, and 4 iso booths of various shapes and sizes. Wellspring's new studio B now features a comfortable 14´ x 18´ control room and a 13´ x 14´ live room. The recent installation of a 56 input Sony DMX-R100 digital console in studio B, along with additional equipment upgrades, now makes the room an excellent mixdown choice as well. Other features of the new facility include 2 lounges, free parking, easy load-ins and environmentally-hip construction and building materials.
We hope you enjoy our website. Please feel free to contact us at (978) 263-9246, cell phone at (978) 621-0292, or by email at eckilburn@gmail.com.