Gear List at Wellspring Sound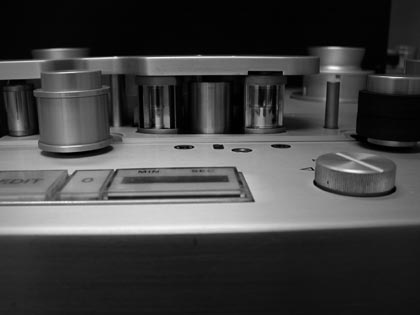 (View our Gear Explanations Page)
Boston's Only 1" Analog Stereo Mixdown Deck (sometimes size matters)
RADAR and ProTools HD- A Great Combination
ProTools 11 with new MacPro and 32 channels of Avid HD I/O, along with 32 channels of Lynx Aurora I/O, GML eq and Autotune plug-ins
RADAR 6 platform providing 24 tracks of industry-standard AD/ DA conversion at sample rates up to 96 K and allowing high speed data transfers over USB 3.0 ports. The RADAR 6 can easily and quickly import or export .wave files from all popular DAW's. If you've never experienced the sound of RADAR, prepare to be blown away.
(3) 24 track 24 bit RADAR Hard Disk Recorders with Nyquist 96K converters, 48 track ADAT lightpipe interface, 48 track AD/DA converters, 200 gigs of removeable drive memory on Barracuda and Cheetah Drives
Radar 24 with 96 K Nyquist Converters, 24 track TDIF and ADAT lightpipe I/O, can burn 24 bit wave files directly to CD or DVD
ProTools HD3 Accel with HD3 pack plug-ins, capable of handling over 150 tracks ( c'mon you know you need them all) Dual 2.0 Gig Macintosh G-5 ; system outputs to two Digi 192 interfaces ( one is a 16 channel all-digital interface that connects with RADAR, the other 192 outputs 8 channels digitally to RADAR and 8 channels of analog outs directly to the console. A total of 32 channels of analog outs can go to the console, 24 of which go through the high end RADAR D/A converters.
ProTools Sync I/O - lets the Pro Tools HD rig sync with all time codes
(2) Lnyx Aurora HD- 16 channel AD/DA converter 44-192 khz sample rates for ProTools; 32 channels of A/D and D/A
Antelope Isochrone OCX digital clock for linking RADAR, Lynx, and ProTools converters
Apogee DA-16 digital/analog converter
2014 Apple MacPro
Studer A-80 Mk2 24 track 2 inch tape recorder w/locator Wide body style.
(2) Mackie SDR 2496 24 track hard disk recorders, which record directly to .wave, and can be firewire transferred to almost any DAW
(2)Alesis HD24 24 track hard disk recorders, which record directly to AIF files, and can be firewire transferred to almost any DAW
ADAT XT-20 20 bit ADATs (4)
Alesis ADAT XT-16 (2) with BRC autolocator
ProTools Digi 001 24 track Digital HardDisk Recording - Macintosh G4 700 megs RAM, 600mhz
Studer A-80 Mk2 Halftracks (2), 1/4"and 1/2", 15 and 30 ips
Sonic Solutions SSP 24 bit digital mastering system with NoNoise, CD burner, and 9 gig drive
(3) Panasonic AG-HMC150 high-def camcorders with shotgun mics and XLR line and mic inputs
Roland DM-800 Digital Workstation 8-track hard disk recording/mixing/editing w/Iomega 1 gig Jazz drive (12/1 gig disks avail.)
Studer A80 1 inch custom-built Stereo mixdown deck
Otari MX 5050 BQ-3 1/4 inch 2 track
Tascam DA-30 Mk 2 Dat Recorder
Panasonic SV-3800 DAT Recorder (2)
Panasonic SV-3700 DAT Recorders (2), SV-3200 DAT
JVC 621 and V-77 studio cassette decks, JVC V6 (7)
Alesis MasterLink ML-9600 High-Resolution Master Disc Recorder (3)
Marantz CDR 615 CD Recorder
Marantz CDR 630 CD Recorder
Tascam CD-RW2000 Recorder (2)
Studer A-80 Mk2 8 track 1 inch
Studer A-80 Mk2 1 inch halftrack
Source Elements ProTools plug-in: allows realtime 192kbps  MP3 streaming over the web of mixes in progress. You can mix your album with us in real time anywhere on the planet where there's an interenet  connection!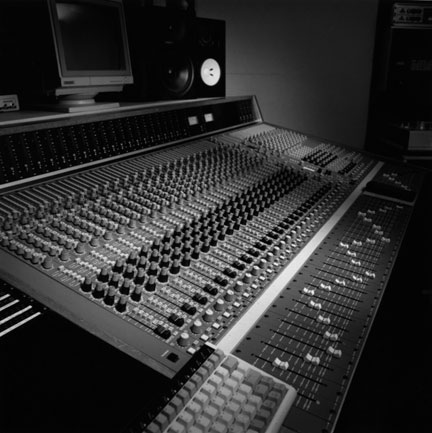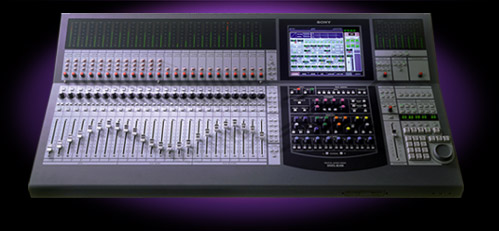 Neotek Elite , 32x 26 x 40 with 32 channel Optifile Tetra automation, 80 inputs in mixdown, 600 point patchbay. Extensive upgrades in 2009 by Coleman Rogers Design to individual channels and master section, resulting in greater headroom, transparency and signal to noise level for the console.
Sony DMX-R100 digital console ( sometimes referred to as the "Baby Oxford") , 56 inputs total, 32 digital ADAT lightpipe inputs, 8 optional AES in/outs, 24 analog ins, total recall automation, high quality compression, gates, eq on every channel,96K ready, 5.1 surround capable.
APB Dynasonics Spectra T 48 channel console with 48 mic/line ins, 4 stereo returns, 8 VCA groups, 10 auxes
Yamaha LS9-32 digital console, 32 mic inputs, 32 channel ADAT ins/outs, full effects, eq, compression on every channel, recallable scene memory, remote operation from laptop
Midas Venice 320 , 32 channel console, up to 28 mic inputs and 4 stereo returns, 6 auxes, great "English" sound. Daniel Lanois uses this board in his studio
APB Dynasonics ProRack 1020 20 channel rackmount console
Yamaha LS9-16 digital console, 16 mic inputs, 16 channel ADAT ins/outs, full effects, eq, compression on every channel, recallable scene memory, remote operation from laptop
Allen and Heath GL2200 32 channel console with specially-modified pre-fader balanced direct outs.
Allen & Heath GL2400 24 channel console
Soundcraft EFX-8 12 channel console
back to top
Microphones
Neumann U-47 tube
Neumann U-67 tube
Neumann KM-54 tube (2)
Neumann U-87 (2)
Neumann U-87 w/ Klaus Heyne mod
Neumann TLM 103 (2)
Neumann TLM 49
Neumann TLM 127 (2)
Neumann KM-84 (4)
Neumann KM-86 (4)
Neumann KM-83 (2)
Neumann CMV563 tube
Neumann KMS-105 (6)
Neumann M-582 Tube (4)
FLEA C-12 Clone (2)
Flea 49 ( 2) awesome clones of Neumann M49's
Manley Gold Cardioid Tube
Schoeps CMC6/Mk4 condenser (4)
Rode "Classic" Tube
AKG 414(2)
414 TL2
D-112E
C-451
AKG 535 (2)
RCA 44B ribbon
Coles 4038 Ribbon (2)
AEA R-44CX Ribbon Microphone
AEA A440 (3) +48V Ribbon Mic (amazing new high-gain ribbon mic)
Langevin CR-3A
Lawson L-47 MP tube
EV RE-20
Audix D6
Audix I5
EV N/D 408 (2)
Beyer M160 ribbon (4)
Beyer M88 (2)
Beyer MCE-81 (2)
Beyer M260 (ribbon)
AEA R-84 ribbon (2)
Shiny Box 46L ribbons(matched pr)
Sennheiser 441 (2)
Sennheiser 421 black,old style (3)
Sennheiser 421 white,old style (3)
Sennheiser MK418 mid-side stereo mic

Earthworks QTC-1 omnis (2)
Heil PR-35 (4)
Rode NT 1
Octava Mc012 condensers (4)
Shure SM7
Shure SM-57(7)
Shure SM-98 (3)
Shure Beta 52
Shure Beta 58 (4)
Shure Beta 87 (4)
Shure SM-81 (9)
Shure KSM-9 handheld vocal condenser (6)
Shure KSM 32 (4)
Shure KSM 137 (2)
Audio -Technica 813 (4)
Audio -Technica 4031 (2)
Audio -Technica 4033
Audio -Technica 4047 (6)
Audio -Technica 4051 (4)
Audio -Technica ATM-25 (4)
Audio -Technica Artist Series ATM-350 clip-on lavalier (2)
Audio Technica AT815ST stereo multipattern mic
Earthworks TC-30 (2)
Blue "Berry" condenser (2)
Royer R121 ribbon (2)
Soundelux ELUX 251 (tube)
Soundelux E-49 (M-49 clone) (2)
Soundelux E-47 (tube)
Soundelux Ifet-7
Sterling ST44 (tube) (3)
Mojave Audio MA-100(tube, cardioid/omni small capsule)(4)
Lomo 19a19 tube microphones (2)
Yamaha Subkick bass drum microphone
Wireless microphone systems include 4 Shure ULX-pro, 4 Shure PGX, and 8 Shure PG wireless lavlalier, micro-lavalier and headset mics, along with 2 Countryman B3 micro-lavs
others
Noise Reduction
Dolby 361 SR's for mixdown decks
DBX 150X
Dolby B and C on all cassette decks
Dolby SR 24 channels for either 2" deck
Outboard
MIC PRE's

Neve 1070 Mic Preamps/eq (4)
Neve 33114 Mic Preamps/EQ (2)
Neve 1272 Line/Mic preamps (16); Audix 35102 mic pre/eq (2)
Neve 1271 line amps (2)
D.W. Fearn VT2 stereo tube mic preamp (3)
Calrec PQ 15S Mic Pre/Eq (2), PQ 1161 mic pre/eq (2)
Chandler TG-2 stereo discreet "Abbey Road" mic preamp (2)
Universal Audio 2108 stereo discreet mic preamp
Universal Audio 8110 8 channel class A preamp rack
Siemens/Telefunken V72 Tube Mic Preamps (circa 1958)(4)
GML 8302 Stereo Mic Pre ( Massenburg)
GML 8304 4 channel Mic Pre ( Massenburg)(2)
Millenia NSEQ-2 stereo tube/class A Parametric EQ
Demeter VTMP-2a 2-Channel Tube Mic Pre/DI,
Night pro PreQ3 stereo mic pre/eq
Earthworks LAB-102 Stereo Mic Preamps (2)
Earthworks 1024 4 channel Mic Preamps
Universal Audio 2610 stereo tube mic pre/eq (3)
API 3124+ 4 channel mic pre
API 3124 MB+ 4 channel all discreet microhone preamp with summing
LaChappell 992 eg stereo tube mic preamp

EQ

Summit EQP200B Dual Stereo Tube EQ
API 550a Parametric EQ's (4)
Weiss EQ-1 Mk2 stereo digital equalizer
GML 8200 Stereo Parametric EQ ( Masssenburg)
Cranesong Hedd Stereo AD/DA converter and tube simulator
Cranesong IBIS Stereo Class A EQ
Manley Massive Passive stereo tube EQ (2)
Siemens w295 EQ (6)
Sphere 9 band graphic EQ (2)
Z-Systems Z-qualizer stereo digital equalizer
Yamaha Q 2031 Stereo 31 band graphic equalizer
Behringer 8000 digital graphic eq and analyzer
Rane PE-15 5-band Parametric Equalizers( modified) (4)

COMPRESSORS/LIMITERS

TC Electronics Finalizer 20 bit A/D converter/compression/eq etc.
Waves L2 Ultramaximizer A/D converter/limiter(2)
Weiss DS-1 Digital compressor
RCA BA6A Tube Limiter/mic pre (from 60's; similar to LA2A)
Summit DCL-200 Stereo Tube Compressor
Tube Tech LCA-2B Stereo Tube Compressor
Tube-Tech PE-1C Tube EQ
Tube Tech Cl-1B Tube Compressor
Prism MLA-2 Stereo Compressor
Focusrite Red 3 Stereo Compressor
Brooks Siren BSS 901 parametric compressor (2)
Brookes-Siren 944 Stereo Parametric Compressor/Gate
Aphex Dominator II Stereo Limiter 
Chandler LTD-2 stereo compressor with mastering mods
Urei 1178 Stereo Compressor ( modified)
Urei LA-4 Compressors (2)( modified)
LA Audio 'Classic' Stereo Compressor
Solid State Logic FX-384 Stereo Compressor
Joe Meek Stereo optical compressor
Empirical Labs "Distressor" compressors (6)
Cranesong STC-8 stereo compressor
Empirical Labs FATSO compressor/analog simulator
Aphex Stereo Compellor(modified)
Valley People Dyna-mite compressor/limiter/ gate/de-esser
Brooks-Siren 404 Quad compressors/ de-essers
DBX 166 Stereo Compressor-limiter-noise gate(3)
DBX Quantum Digital processor
Ensoniq DP/4 4 channel multi-effects processor
Kurzweil Rumor Digital multi-effects (2)
Kuzweil KSP8 Multi-effects, with 8 channel AES interface (2)

EFFECTS & REVERBS

Lexicon 300, PCM-91, PCM-80, PCM-70, LXP-1, LXP-5, PCM-60, MPX-500, Vortex Digital Reverbs/Effects
Bricasti M7 Digital Reverbs (2)
Pluto Plate - modern spec, handbuilt,  old school amazing plate reverb
TC Electronics M5000 Digital Mainframe w/reverb, efx, compression, AD/DA converters
TC Electronics M4000 Reverb
TC Electronics M3000 stereo reverb/effects processors (2)
TC Electronics Fireworx multi-effect processor
Dynacord DRP-20 32 bit Reverb/effects Processor
Eventide H3000 Ultraharmonizer
Eventide H3000 D/SE digital multi-effects
Eventide Eclipse digital mutli-effects
TC Electronics 2290 Delay w/ 32 secs of sampling
Roland SDE-3000, SDE 1000 Digital Delays
Lexicon Prime Time 93 Digital Delay
Deltalab 1024 Digital Delay (modified)
Yamaha SPX-90 multi-effects
Yamaha D1500 Digital Delay (2)
Digitech IPS-33B 16 bit pitch shifter, delay, chorus, flanger,ect..
Antares ATR-1 automatic pitch corrector(2)

CONVERTERS

apogee PSX-100 24 bit A/D converter
Benchmark DAC-1 Digital-analog converter
Lavry 4496 Stereo AD/DA converter ( the best we've heard!)

Alesis DM Pro 20 bit drum machine
Symetrix 564 Quad gate (frequency-keyed)
Behringer XR-2400 Quad expander/noise gate
Behringer Intelligate Stereo Expander/Gate (3)
Aphex Type C (2), BBE 422 Exciters (6 channels total)
Tech 21 Sans Amp distortion generator / amp simulator
DBX 120 XP subharmonic synthesizer, DBX 1531 stereo graphic eq(2)
Panasonic AG-HMC 150 professional camcorder (2)
Evil Twin Tube direct box
ReAmp +4 /-60db Signal Convertor
Stewart/Missing Link/Countryman active and passive direct boxes (6)
Line 6 POD amp simulator
Amps
Vox AC-30 (1963) (tweaked and recapped by Roy Goode)
Vox AC-15 hand-wired 2010 reissue with Alnico Blue speaker
Fender '59 Bassman Reissue Amp
Victoria Tweed Deluxe ( exact copy of "58 Fender Tweed)
1963 Danelectro Centurion surf amp
Egnater Rebel 20 head with 6V6/El-84 blending
Hamilton-Korby Tweed Fender Super 2/10 clone with reverb
Hamilton- Korby Tweed Fender Pro clone 1/15 with reverb
Mesa Boogie Mk II with 2x12 Marshall Cab
Mesa Boogie Dual Rectifier Tremoverb combo
Mesa Boogie Lonestar Special 12" Combo
Fender Blackface Vibrolux Reverb (1966)
Fender Blackface Princeton Reverb (1966)
Fender Blackface Super Reverb (1967)
Fender Deluxe Reverb (1968)
Fender Twin Reverb (1968)
Fender Princeton Reverb (1968)
Fender Pro Junior
Fender VibroChamp (1973 )
Fender Blues Junior
Top Hat Club Royale amp ( similar to Vox AC15)
Marshall JMP 100 watt Super Lead Amp (1976) with 4x12 cab
1974 Marshall Plexi 100 watt head ( Roy Goode mods)
;Roland JC-120 Jazz Chorus
Ampeg B-15S Bass Amplifier
Ampeg B-12 Bass Amplifier
Ampeg SVT Bass Amplifier with 4x10 cabinet (1969)
Musicman 210 HD Guitar Amp
Gibson GA-77 amp w/ 15" speaker, recapped (1959)
Gibson GA19 Guitar Amp
Bryston 4B stereo amp
Bryston 3B stereo amp
1960's Leslie 147 cabinet
Epiphone Valve Junior 5 watt !
Tons of classic and modern boutique effect pedals
Instruments
Yamaha C7 (1983) 7'6" Concert Grand Piano (medium voicing)
Yamaha C7 (1999) 7'6" Concert Grand Piano (brighter voicing)
Hammond B-3 (1958) Organ with Leslie 142 speaker
1971 Fender Rhodes 73 Electric Piano
1960's Wurlitzer Electric Piano
Nord Stage 2 88 key weighted action electric keyboard
1965 Ludwig Gold Sparkle Drumset with 20" bass drum, 14"snare, 12", 13", 16" toms
1975 Sonor Rosewood drumset, ( 24" bass, 18"floor, 12, 13, 14 toms and metal snare
1959 Slingerland Radio King Diamond Black Pearl Kit with solid shell snare, 20" bass drum, 12",14", 16" toms
1985 Gretsch Jazz Series Bebop kit with 18 x 14 bass drum, 12 and 14 inch toms
Misc Zildjian, Paiste, and Sabian cymbals, DW Highhat w/Zildjians
Grover 14" Wooden Snare ( we love this one!)
Grover 22 x 18 bass drum
Tama Star Classic 14" Maple Snare
Pearl 14" Metal Snare
Misc and sundry percussion including congas, jimbeh, shakers, tambourines, etc
Kurzweil K-2000S synth/sampler
Yamaha S-90ES 88 key weighted-action synth
Roland HP- 2700 Digital Piano
ESP Stratocaster with vintage Duncan pickups
Fender 1974 Stratocaster
Fender '59 Stratocaster "Thin Skin" (an especially sweet strat formerly owned by Kevin Barry)
Fender Mark Knopfler Signature Stratocaster with vintage strat specs and Texas Special PU's
Blade Stratocaster with Levinson PU's
Fender '62 Telecaster reissue with hipshot
Fender '52 Telecaster reissue w/ factory B-bender
1968 Fender Telecaster w/bigsby
1965 Gibson ES330 hollowbody electric
1956 Gibson ES225 TDC hollowbody electric
1968 Gibson ES335 semi-hollow electric
1978 Gibson Les Paul Custom
1965 Gibson Melody Maker electric guitar w/ 1965 humbucking PU's (essentially an SG)
1961 Guild Starfire hollow body electric
1979 Rickenbacker 450 electric guitar
1980 Rickenbacker 360-12-string electric
2012 National Tricone style 2 resonator guitar , German Silver
Dobro 33H Steel Guitar
National Triolian Resonator guitar (1928)
Martin M-36 custom acoustic guitar (1983)
Gibson J45 (1949)
Gibson J50 (1965) acoustic guitar
Gibson L-1 (1928) Robert Johnson's model
Gibson LG-2 (1950) acoustic guitar
Martin D-18 (1949) acoustic guitar, available by request only
Martin 000-18 1937 Golden Era acoustic guitar
Martin 0-18 acoustic guitar (1967) currently set up as a high string guitar
Martin 00-18 acoustic guitar (1961)
Taylor 510 acoustic guitar (1991)
Taylor T-5 acoustic/electric guitar
Froggy Bottom (Michael Millard) custom acoustic guitar (1991)
Collings OM-2HD Brazilian rosewood acoustic guitar (1991)similar to Martin OM-28, available by request
Collings "Baby" acoustic guitar
TJ Thompson custom OM-28 Brazilian rosewood steel string acoustic guitar
1964 Martin D-28 Brazilian rosewood
Weissenborn Type 1 Hawaiian guitar ( 1923)
Asturias classical guitar
Casio CZ-101
25 assorted guitar pedals including T-rex delay,Empress tremolo,Ibanez tube screamer, Retro-sonics Chorus, Fulltone Deja-Vibe,OCD, Wah, Boss custom blues driver etc.
Fender FM-61 Electric Mandolin
Gibson Widget midi pickup
Kurzweil Micropiano
Alesis D-4 and Roland R-5 drum machines
60's Silvertone e. gtr. with lipstick PU
1950's Supro Lap Steel
1938 Rickenbacher Lap Steel
1939 Rickenbacher Lap Steel
1941 Rickenbacher Lap Steel
1965 Fender Precision Bass
1965 Fender Jazz bass
1974 Fender fretless Jazz bass
1995 Fender fretless Precision bass
Guild Ashbory Fretless Bass
Ernie Ball Stingray Bass
Lakland Fretless Electric Bass
1972 Rickenbacker 4001 bass
1966 Hofner Model 182 bass
Gold Tone ME Microbass ( fretless)
Guild x-155 Hollowbody jazz guitar
DeArmond (by Guild) M-75 electric guitar (clone of Gretsch DuoJet)
DeArmond (by Guild) baritone Guitar
1921 Gibson A2 mandolin
1921 Gibson F-4 mandolin
1913 Gibson H-2 Mandola
Rigel Custom CT-110 style resonator mandolin
Gibson 1924 Snakehead A model mandolin
Hilburn #41 Custom F-5 mandolin 2006
Hilburn #51 Custom F-4 mandolin 2009
1914 Gibson A-4 Mandolin
2006 Nugget F-5 Mandolin
2005 Gilchrist Style 5 Mandolin
1923 Vega Tubaphone Banjolin
Trinity College Octave mandolin
1961 Fender Mandocaster electric mandolin
Monteleone 1979 Grand Artist Mandolin
Chuck Lee banjo
Dearmond M-77T (Gretsch clone)
Beard R-model mahogany squareneck Dobro
Republic Tri-cone resonator guitar
National Tricone German Silver cutaway resonator guitar
Starr and Santiago Violin
Kala Ukulele bass
All guitar amps serviced and tweaked by Jim Salmon of Sonic Bloom and Bob DeTorre of DST Engineering
Monitors
Genelec 1031A's (self powered) speakers
Quested H210's soffit mounted and powered by Bryston 4B amplifier
Adam SA-3 powered monitors (two pairs)
Mackie self-powered
Tannoy System 12 DMT2
Yamaha NS-10's (2 pairs)
Paradigms
Auratone 5C's
ATC SCM25A 3 way active
Headphones
AKG K400 (2)
AKG 271S (10)
AKG 240S (4)
AKG 240(7)
AKG 240 DF (4)
AKG 141(2)
AKG 270 (2)
Beyer 811 (2)
Furman 16 channel artist-controlled headphone mix stations (6) - allows 6 people in Studio A or Studio A iso booths to fully adjust their own headphone cue mixes
Phones also powered by (5) Oz Audio 4 channel headphone amps, (2) Tascam MH-40, (4) Oz Audio ,Symetrix 204, and Bear Audio tube headphone amps; 5 sep phone mixes possible
Studio Dimensions
Studio A 40 x 36 with 12-15 foot ceilings
Four iso booths:12' x 14', 2/9'x 9', 6'x 10'
Control Room A 22'x 24'
Studio B 14'x 13'
Control Room B 18'x14'
Designed by Matt Bagorozzo